2013 wrap up – Everett Bay Lodge on Lake Vermilion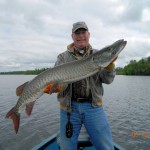 We are in the midst of putting the "finishing touches" on the 2013 resort season.  While we certainly enjoyed the company of our "regular" guests who make each season great, we were happy to welcome a good number of returning guests who had missed a few years, but found their way back up north to enjoy beautiful Lake Vermilion.  We are truly blessed to have so many wonderful customers and appreciate your business.
The stubborn May ice delayed the action a bit, but eventually June guests enjoyed a consistent pattern for walleyes and bass.  Again the weather came into play in late July when a cooler than normal pattern hung around, putting a little damper on the typical late July musky window, as things ran behind schedule.  The walleye bite close to the resort hung on later into the season than usual.
There were many walleyes in the upper 20″ range, with Monica Jozwiak trumping her husband's 25+" with a 30+" the next day.  (He took it in good stride!)  The walleye bite offered up a nice mix of "eater" and "released" fish.  There was no shortage of fresh walleye fish frys.  On the muskie front, as usual, Eric Larsen pushed over the 50″ mark, and first time EBL guest boated a 51″ with Tyler Stepke catching a norther over 42″.   There were plentiful large and small mouth bass, jumbo perch and northern  as well. There were several catches that will expand the Everett Bay Lodge Wall of Fame.
Add in a few honeymoons, anniversary trips and family vacations where volleyball, swimming, horseshoes…were the focus of the agenda, and it turned out to be a very enjoyable season.  Again, we appreciate those of you who made Everett Bay Lodge your 2013 Lake Vermilion resort vacation spot, and we hope to see you again soon!
Subscribe to our Blog!

Archives

Categories